Glaube Liebe Hoffnung | Faith Love Hope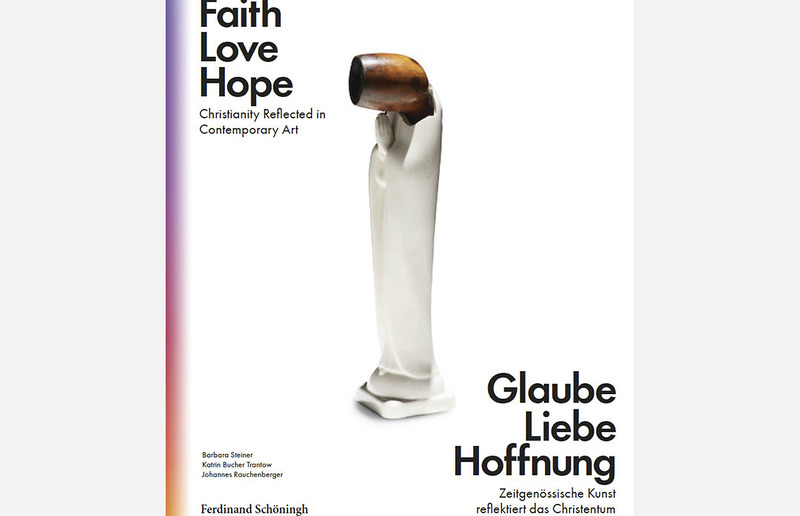 Glaube Liebe Hoffnung | Faith Love Hope. Hg. von Ed. by Katrin Bucher Trantow, Johannes Rauchenberger, Barbara Steiner
316 Seiten, ca. 300 Abb., deutsch/englisch ISBN: 978-3-506-79281-5
Künstlerinnen und Künstler | Artist
Adel Abdessemed, Azra Akšamija, Iris Andraschek, Maja Bajević, Anna Baranowski und Luise Schröder, Maja Bekan, Monica Bonvicini, Louise Bourgeois, Guillaume Bruère, Günter Brus, Berlinde De Bruyckere, Willem De Rooij, Marlene Dumas, Manfred Erjautz, VALIE EXPORT, Harun Farocki, Linda Fregni Nagler, Hilde Fuchs, Dan Graham, Maria Hahnenkamp, Fritz Hartlauer, Anna Jermolaewa, Birgit Jürgenssen, Franz Kapfer, Zlatko Kopljar, Maria Kramer, Kris Martin, Anna Meyer, Inge Morath, Muntean/Rosenblum, Alois Neuhold, Hermann Nitsch, Adrian Paci, Hannes Priesch, Karol Radziszewski, Werner Reiterer, Ulrike Rosenbach, Anri Sala, Christoph Schmidberger, Santiago Sierra, Slavs and Tatars, TEER (Wolfgang Temmel, Fedo Ertl), Norbert Trummer, Luc Tuymans, Danh Vō, Franz West, Markus Wilfling, Manfred Willmann, Artur Żmijewski, sowie Werke bekannter und anonymer Meister aus der Alten Galerie, dem Volkskundemuseum des Universalmuseums Joanneum und dem Diözesanmuseum Graz.
Faith Love Hope
The "three divine virtues", Faith Love Hope—cornerstones of Christian piety—are also part of cultural memory as artistically rendered allegories and symbols. Today, depicted as the cross, heart and anchor, they are among the most popular tattoo motifs and are an example of the transfer and incorporation of Christian values into our contemporary, everyday culture.
Including conversations, text excerpts, illustrations and descriptive texts on more than 50 contemporary and antique works, this book examines the Christian influence on Western pictorial culture. At the same time, it documents a large-scale exhibition which was held at the Kunsthaus Graz and KULTUM Graz on the occasion of the anniversary "800 Years of the Diocese of Graz-Seckau" and examines this heritage from the perspective of the 21st century. How does contemporary art reflect Christianity? What factors create the complex field of tension between attraction and repulsion within which artists have been interpreting the Church and faith since the 20th century? And last but not least: Which forms of image-based ethical and social discourse are still influential today?
Curated by Katrin Bucher Trantow, Johannes Rauchenberger, Barbara Steiner