Peter Ablinger: QUADRATUREN III ("WIRKLICHKEIT"). PORTRAIT MEINER ELTERN, 2006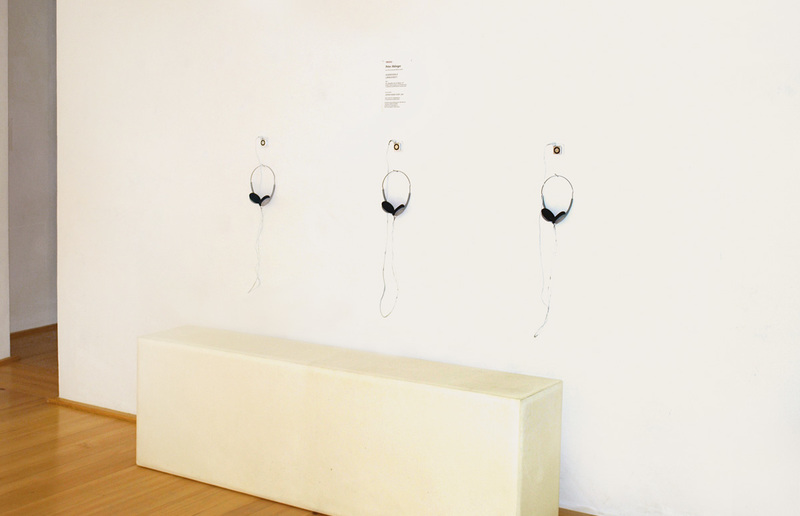 Quadraturen III ("Wirklichkeit"). PORTRAITMEINE R ELTERN, 2006, Endlos-Schleife für 2 Selbstspielklaviere, in Zusammenarbeit mit Winfried Ritsch, links: Aufnahme aus der Uraufführung am 6. Mai 2006 beim Symposium "KUNST ZU GLAUBEN" anlässlich des 70. | Peter Ablinger
Peter Ablinger
geboren 1959 in Schwanenstadt, Österreich, lebt und arbeitet in Berlin. Er studierte Jazz-Klavier in Graz und nahm privaten Kompositionsunterricht bei Gösta Neuwirth und Roman Haubenstock-Ramati. Er erhielt u.a. 2008 den Andrzej-Dobrowolski-Kompositionspreis für sein Lebenswerk und 2010 den Deutschen Klangkunstpreis. 2001 wurde ihm im KULTUM ein Portraitkonzert gewidmet. 2013 leitete er das Musik- und Ausstellungsprojekt "Composition beyond Music", mit Kompositionsaufträgen wurde Ablinger im KULTUM bei "Gravity" (2003), "KUNST ZU GLAUBEN" (2006), "Prometheus!" (2010) und "1+1+1=1   Trinität" (2011) betraut. Ablinger wurde in der Ausstellung "IRREALIGIOUS! Parallelwelt Religion in der Kunst" (2011/12) gezeigt. 
born in Schwanenstadt, Austria, in 1959; lives and works in Berlin. He studied Jazz Piano in Graz and was given private composition lessons by Gösta Neuwirth and Roman Haubenstock-Ramati. Among other things, he was awarded the Andrzej Dobrowolski Composition Award for his lifetime achievement in 2008 and the German Sound Art Award in 2010. In 2001, the KULTUM dedicated a portrait concert to him. In 2013, he organized the music and exhibition project "Composition beyond Music". Ablinger was commissioned by the KULTUM to write compositions in the frame of "Gravity", (2003), "KUNST ZU GLAUBEN", (2006), "Prometheus", (2010) and "1+1+1=1   Trinität" (2011). Ablinger was presented in the exhibition "IRREALIGIOUS! Parallelwelt Religion in der Kunst" (2011).  
 
Peter Ablinger: QUADRATUREN III ("WIRKLICHKEIT"). PORTRAIT MEINER ELTERN (PORTRAIT OF MY PARENTS), 2006
The Berlin-based Austrian composer Peter Ablinger records soundscapes of his environment which he creatively edits and from which he develops his distinctive compositions. He composed this piece from his "Quadraturen" series for two players piano from the recording of his parents praying the Rosary. Moreover, they were presented as monumental sculptures at the first performance: the father to the left, the mother to the right. The computer-controlled mechanical keyboard strokes alone generate a sound pattern in the listeners' ears that turns into spoken words for some of them in no time at all. "Ge-grü-ßet-seist-du-ma-ria-volldergnade-der-herr-ist-mit dir…" (Hail Mary, full of grace, the Lord is with thee), while others do not experience this effect at all.
"The high resolution of the piano playback results in rapidly vibrating ictuses which make some words comprehensible for those who already know the text. The short piece is based on a completely performed prayer. (...) The uniformly tight pattern as well as the tight chromatic clusters resulting from this bring about that mimesis is is experienced here in the sense of language simulation.wIn the deep male register in particular listening switches into the mode of language identification even if one does not really understand the text. Melodic listening to the clusters, i.e. the primary focus on pitch relationships, recedes into the background here even though a "musical" instrument serves as a listening source. It seems the piano is able to convey some kind of 'lexicoding'."
(Chico Mello, "Mimesis und musikalische Konstruktion", Shaker Verlag, Aachen 2010)
Text aus | Text from: Johannes Rauchenberger: Gott hat kein Museum. Religion in der Kunst des beginnenden XXI. Jahrhunderts. | No Museum Has God. Religion in Art in the Early 21st Century. (IKON. Bild+Theologie, hg. von | ed. by Alex Stock und Reinhard Hoeps), Verlag Ferdinand Schoeningh, Paderborn 2015, S. | p. 950-951.