Julia Krahn: Mutter, 2009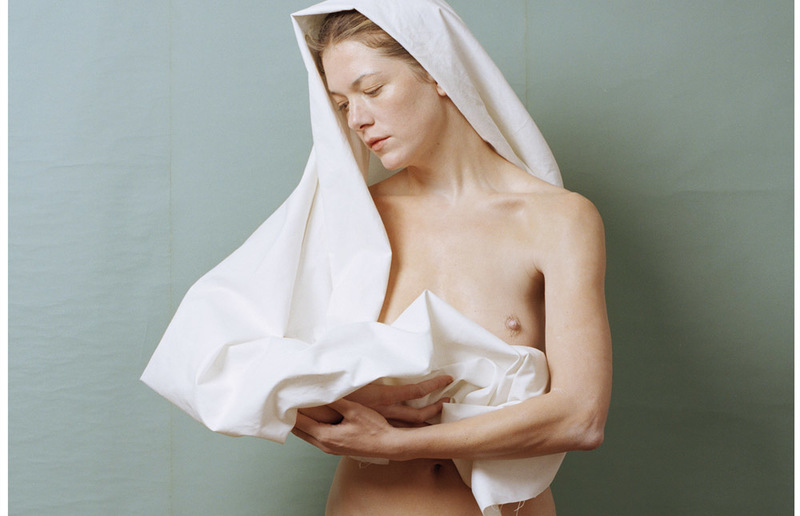 J
Mutter, 2009, Bubble-print auf Aluminium gerahmt, Museumsglas, 32,3x40 cm, KULTUMdepot Graz, aus: mutter. Neue Bilder in zeitgenössischer Kunst (2010) | Julia Krahn
Julia Krahn
geboren 1978 in Aachen, Deutschland, lebt und arbeitet in Mailand. Die Fotografin untersucht innere Wertekonflikte sowie veränderte Werte in Gesellschaft, Familie und Religion. Die vorgefundenen Gegensätze inszeniert sie in ihren Fotoarbeiten mittels traditionellen Symbolen und Verweisen auf die christliche Ikonografie. Charakteristisch sind auch Krahns Selbstportraits, die sie mit einem Selbstauslöser ausführt. Ihre Arbeiten wurden u.a. in Basel, Berlin, Bozen, Hannover, LA, Lima, London, Mailand, Marokko, Mexico City, Neapel, NY, Stuttgart, Teheran, Turin und Venedig ausgestellt. Im KULTUM wurde Krahn in der Ausstellung "mutter. Neue Bilder in zeitgenössischer Kunst" (2010), "Seelenwäsche" (2013), "reliqte, reloaded: Zum Erbe christlicher Bildwelten heute" (2015/16) und "VULGATA. 77 Zugriffe auf die Bibel" (2017) gezeigt. 
born in Aachen, Germany, in 1978; lives and works in Milan, Italy. The photographer investigates inner conflicts of values and changed values in society, in the family, and in religion. In her photographic works, she dramatizes the opposites she finds by means of traditional symbols and references to Christian iconography. Also typical are Krahn's self-portraits, which she takes with a self-timer. Her works were exhibited i.a.in Basel, Berlin, Bolzano, Hanover, Los Angeles, Lima, London, Milan, Morocco, Mexico City, Naples, New York, Stuttgart, Tehran, Turin, and Venice. Krahn's works were shown in the KULTUM in the exhibition "mutter. Neue Bilder in zeitgenössischer Kunst" (2010) and "Soul Underwear" (2013). 
Julia Krahn: Mother, 2009
A Madonna without Child? The Milan-based photo artist Julia Krahn stages herself as a mother with a linen cloth. But the offspring is missing. Krahn lifts the subject "mother", which was so loaded in 20th century art, into the field of population debates and puts the situation of the western world in a nutshell. Denial, gender conflict, our understanding of the family and our roles are new aspects of this subject too, which the art of today is continuing to work on. Happiness has no mercy. In almost all of her works, Julia Krahn makes use of her own body to symbolically represent social discrepancies, trying to strike a balance between claim and reality. Her self-enactments aim at lost or completely sidelined values of society, family and religion which she fills with new power and poetry to make us aware of their missing all the more strongly. In her picture "Mutter" (Mother), Krahn picks up the iconography of the "Madonna with Child": Yet the cloth diapers she is tenderly holding in her arms, and which serve as a veil at the same time, don't hold any child. It is the void that she is holding fondly in her arms, and which represents both the loss of the traditional family and the desire to have children which is often set aside or sacrificed in favor of an occupational career.
Text aus | Text from: Johannes Rauchenberger: Gott hat kein Museum. Religion in der Kunst des beginnenden XXI. Jahrhunderts. | No Museum Has God. Religion in Art in the Early 21st Century. (IKON. Bild+Theologie, hg. von | ed. by Alex Stock und Reinhard Hoeps), Verlag Ferdinand Schoeningh, Paderborn 2015, S. | p. 804-805.