Elzbieta Jabłońska: Supermother: Batman, Superman, Spiderman, 2002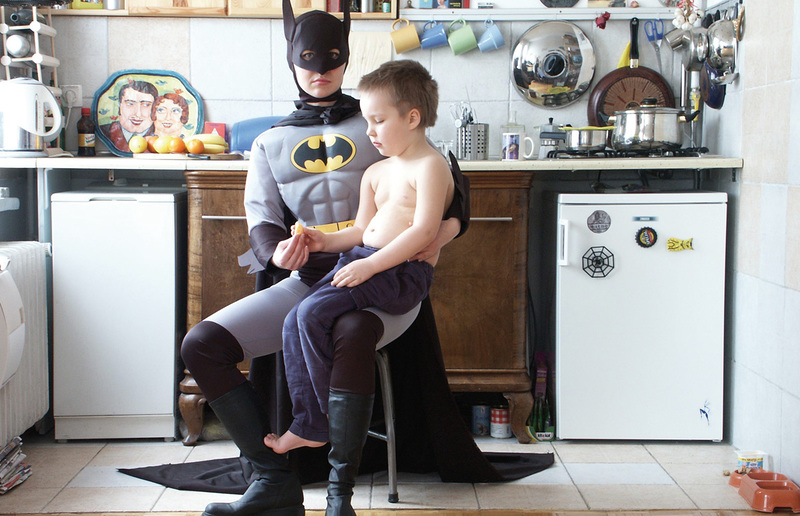 Supermother: Batman, Superman, Spiderman, 2002, Triptychon, C-Print auf Aluminium, je 100x150 cm, KULTUMdepot Graz, aus: mutter. Neue Bilder in zeitgenössischer Kunst (2010) | Elzbieta Jabłońska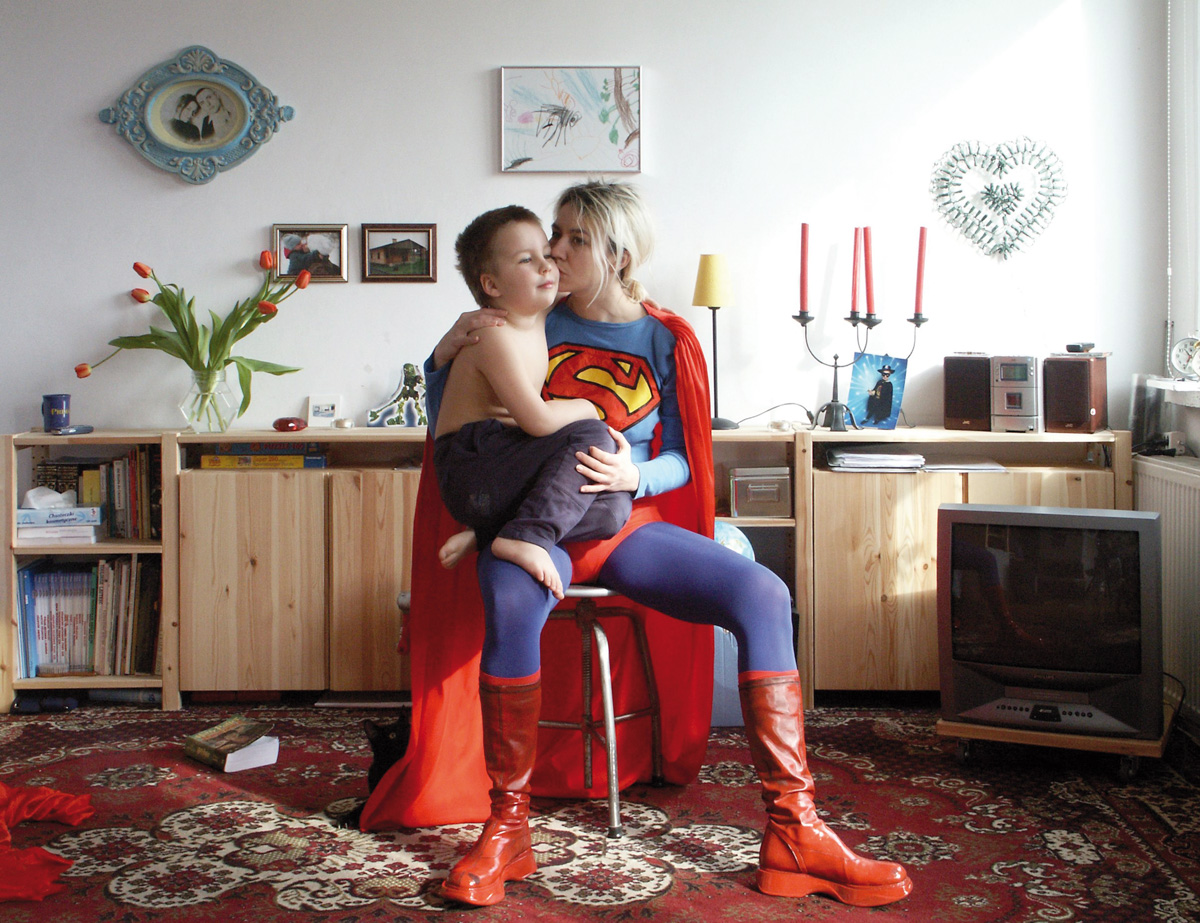 Elzbieta Jabłońska
geboren 1970 in Olsztyn, Polen, lebt und arbeitet in Bydgoszcz, Polen. Sie studierte an der Nicholas Copernicus University in Torun, Polen. Ihre Arbeiten – die zwischen Malerei, Zeichnung, Fotografie, Skulptur, Installation und Performance angesiedelt sind und der postfeministischen Kunst zugeordnet werden – wurden u.a. in der Fundación Antoni Tàpies in Barcelona ausgestellt. Im KULTUM wurde Jablonska in der Ausstellung "mutter. Neue Bilder in zeitgenössischer Kunst" (2010) gezeigt.  
born in Olsztyn, Poland, in 1970; lives and works in Bydgoszcz, Poland. She studied at the Nicolaus Copernicus University in Toruń, Poland. Her works—situated between painting, drawing, photography, sculpture, installation, and performance and associated with post-feminist art—were i.a. exhibited at the Fundación Antoni Tàpies, Barcelona. Jablonska's works were shown in the KULTUM in the exhibition "mutter. Neue Bilder in zeitgenössischer Kunst" (2010).  
Elzbieta Jabłońska: Supermother: Batman, Superman, Spiderman, 2002
Supermother as a playmate for boys with superhero mania? An intelligent game full of humor and warmth gets to the heart of what mothers accomplish every day. Household, parenting, and role models are placed at the viewer's disposal. The Polish artist Elżbieta Jabłońska poses in her apartment as a comic heroine together with her son, and just like a Madonna and Child. Popular culture meets high culture, the mundane the sacral, and the private the public sphere. In the course of this Jabłońska also defines the stage for the countless roles a modern woman has to play. Superman, Batman and Spiderman are not only toy figures for her son but also hint at the supernatural powers with which mothers cope with everyday life and accomplish something that remains much too unacknowledged by the decision-makers of our performanceoriented society. Of course, the humor we come across here cannot belie the fact that role models have their roots in cultural patterns.
Text aus | Text from: Johannes Rauchenberger: Gott hat kein Museum. Religion in der Kunst des beginnenden XXI. Jahrhunderts. | No Museum Has God. Religion in Art in the Early 21st Century. (IKON. Bild+Theologie, hg. von | ed. by Alex Stock und Reinhard Hoeps), Verlag Ferdinand Schoeningh, Paderborn 2015, S. | p. 838-839.