Adrian Paci: PilgrIMAGE, 2005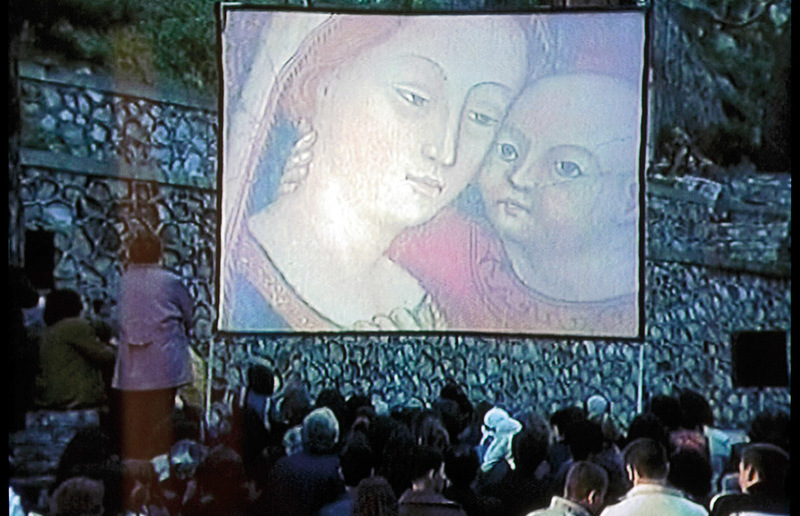 PilgrIMAGE, 2005 Videoprojektion oder Monitor, Farbe, Ton, 13'48'' Courtesy Galerie Peter Kilchmann Aus der Ausstellung: IRREALIGIOUS! Parallelwelt Religion in der Kunst (2011/12) | Adrian Paci
Adrian Paci
geboren 1969 in Shkoder, Albanien, lebt und arbeitet in Mailand. Paci studierte und lehrte an der Kunstakademie in Tirana. 1997 emigrierte er nach Mailand. Seine künstlerischen Medien erstrecken sich zwischen Malerei, Fotografie und Videokunst und kreisen um die Themen von Heimat und Fremdsein, Emigration und Identität. Seine Arbeiten wurden u.a. bei der 47. und 51. Biennale von Venedig präsentiert. Im KULTUM wurde Paci in den Ausstellungen "WIE DU MIR. Gegenbilder für transkulturelles Denken und Handeln" (2008), "IRREALIGIOUS! Parallelwelt Religion in der Kunst" (2011/12), "MITLEID | compassion" (2012), "reliqte, reloaded: Zum Erbe christlicher Bildwelten heute" (2015/16), "VULGATA. 77 Zugriffe auf die Bibel" (2017), "Glaube Liebe Hoffnung" (2018) und "Last & Inspiration" (2018) gezeigt.  
born in Shkoder, Albania, in 1969; lives and works in Milan, Italy. Paci has studied and taught at the Tirana Art Academy. He emigrated to Milan, Italy, in 1997. His artistic media range from painting to photography and video art, and revolve around subjects like home and being alien, emigration and identity. His works were presented i.a. at the 47th and 51st Venice Biennale. Paci's works were shown in the KULTUM in the exhibitions "WIE DU MIR. Gegenbilder für transkulturelles Denken und Handeln" (2008), "IRREALIGIOUS! Parallelwelt Religion in der Kunst" (2011/12) and "MITLEID | compassion" (2012).  
Adrian Paci: PilgrIMAGE, 2005
Which power does an image have in religion? The Albanian artist Adrian Paci, who lives in Milan, Italy after emigrating, has devoted a video work to this central approach of understanding religion which combines historical religious conflicts, legends, authentic piety and current events in a touching way. PilgrIMAGE takes place at two locations: close to a chapel in the field near Shkoder, Albania, and inside of the church of Genazzano near Rome, which may call its own a sacred picture of the Madonna and Child on its altar wall. Legend has it that his picture of Virgin Mary ("Our Lady of Consolation"), which was probably created toward the end of the fourteenth century, disappeared from the Albanian city of Shkoder in 1467, when the city was occupied by the Turks. Shortly thereafter it appeared in the above mentioned church in Genazzano, Italy. Paci's starting point was the legend saying that the icon was saved by angels from imminent Islamic rule. The fourteen-minute video, which also quotes the legend in the form of a history of paintings, switches between the two settings on both coasts of the Adriatic Sea: There, the pilgrims are moving towards a location chosen in advance, here the interior of an Italian church hosting the cultic image is filmed—the image well protected by large iron railings in the presbytery and a small golden grid which is electrically lifted whenever the icon is supposed to be on display. While the camera is zooming over the cultic image, the real setting switches to the Albanian village where pilgrims who have been invited by flyers are welcoming their Madonna reverently in the form of a projection and singing Mediterranean songs of Mary known from popular devotion. Finally, we see the church in Italy again, this time from the Madonna's perspective: because the projection is two-way. What the Albanians are singing, how they are looking at the picture and praying to it, is seen by the Madonna in faraway Italy. And she sees even more. Because the Albanian camera is panning outside taking a look at the situation on site, the poverty, the harsh social reality of the due to Albanian Communism underdeveloped, as if the pleas of those people could not be brushed away completely: "Ad te clamamus, exsules filii Evae. Ad te suspiramus, gementes et flentes in hac lacrimarum valle!" Or, translated into modern English: "What are you doing in the distance in your shrine of gold?" You should have come back long ago."
Text aus | Text from: Johannes Rauchenberger: Gott hat kein Museum. Religion in der Kunst des beginnenden XXI. Jahrhunderts. | No Museum Has God. Religion in Art in the Early 21st Century. (IKON. Bild+Theologie, hg. von | ed. by Alex Stock und Reinhard Hoeps), Verlag Ferdinand Schoeningh, Paderborn 2015, S. | p. 250-251.