Claudia Schink: Gesamtansicht: "SOLILOQUIA", aus: "Das Christentum", Gesamtzyklus: "Das Abendland", 1996–1999
Gesamtansicht: "SOLILOQUIA", aus: "Das Christentum", Gesamtzyklus: "Das Abendland", 1996–1999, Glas- und Gießharzobjekte, sandgestrahlte Glastafeln, 21-teilig, Ausstellungsansicht: Seelenwäsche (2013), Ausstellungsansicht: Claudia Schink: SOLILOQUIA | Claudia Schink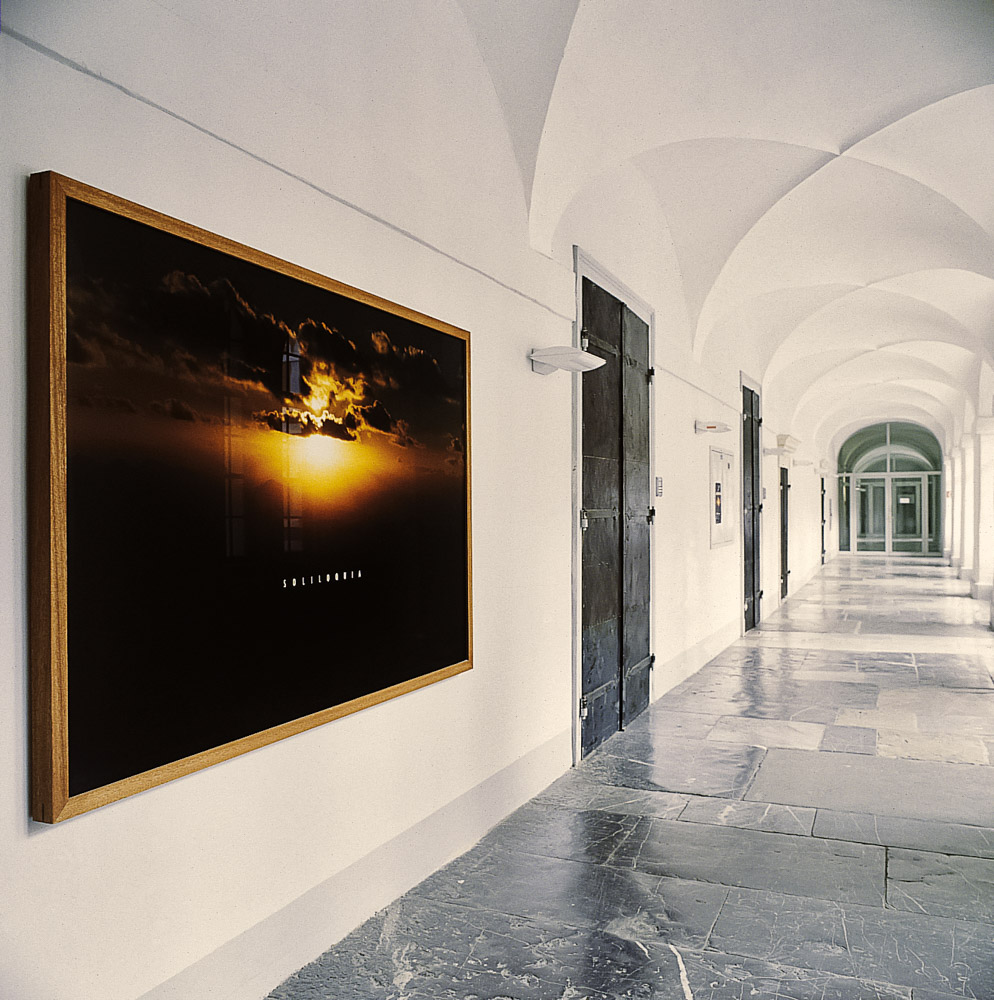 Claudia Schink
geboren 1960 in Kempen, Deutschland, lebt und arbeitet in Köln. Schink studierte Philosophie, anschließend Medienkunst und audiovisuelle Medien in Köln. 2002 promovierte sie im Anschluss an ihr Dissertationsprojekt an der Humboldt-Universität in Berlin und der Kunsthochschule für Medien Köln. Ihre Arbeiten wurden u.a. bei der Art Basel, Art Cologne sowie in Krefeld, Ludwigshafen, Stuttgart, Maastricht, Marseille, Bonn, Berlin und New York ausgestellt. Im KULTUM wurde Schink in den Ausstellungen "Claudia Schink: Das Abendland: SOLILOQUIA" (2001), "Seelenwäsche" (2013), "reliqte, reloaded: Zum Erbe christlicher Bildwelten heute" (2015/16), "VULGATA. 77 Zugriffe auf die Bibel" (2017), "Schönheit und Anspruch" (2018) und in einer Einzelausstellung 2015 gezeigt. 
born in Kempen; Germany, in 1960; lives and works in Cologne. Schink studied Philosophy and the Media art and Audiovisual Media in Cologne. In 2002, she earned a PhD following her dissertation project at the Humboldt University, Berlin, and the Academy of Media Arts, Cologne. Her works were exhibited i.a. at the Art Basel, at the Art Cologne as well as in Krefeld, Ludwigshafen, Cologne, Stuttgart, Maastricht, Marseille, Bonn, Berlin and New York. Schink's works were shown in the KULTUM in the exhibitions "Claudia Schink: Das Abendland: SOLILOQUIA" (2001) and "Soul Underwear" (2013). 
Claudia Schink: Gesamtansicht: "SOLILOQUIA", aus: "Das Christentum", Gesamtzyklus: "Das Abendland", 1996–1999
Like no other religion, Christianity has defined—or rejected—a relationship between the soul and the body; anyway, it is inscribed into the core of its substance: The word becomes flesh. The Cologne-based media artist and philosopher Claudia Schink, who has dealt with the "occident" in various media such as painting, text (a dissertation in cultural sciences amongst other texts), object art or video in the past 20 years, explicitly dedicated a facet of these long years of research to "Christianity". She captures it above all with an iconography of pain: What at a first glance appears like picking up quotational references to the Christian iconography of martyrs with a beautiful esthetic appeal, a memento in a time that seems to have forgotten these cultural codes a long time ago, reveals its profound ambivalence if one takes a closer look. After all, glass is a precarious media for shaping the body or instruments of torture. It rather celebrates the predominance of the mind over the body, or in stronger language it reminds of restricted Passion piety accused of the sacralization of suffering and thus the "vilification of the flesh and the woman, stigmatization of the body as the root of all evil which must be suppressed by suffering and pain"(C.S.). Schink demonstrates disembodiment in the act of most radical embodiment, an experience of pain in the act of martyry as a moment of most radical isolation, as "SOLILOQUIA", as talking to oneself shortly before one enters the hereafter. The title from the literal "land of the setting sun" (the picture of the evening sky) refers to conversations with oneself and has been taken from an early work by Saint Augustine, which captures the conversations of the martyrs before they entered the hereafter.
Text aus | Text from: Johannes Rauchenberger: Gott hat kein Museum. Religion in der Kunst des beginnenden XXI. Jahrhunderts. | No Museum Has God. Religion in Art in the Early 21st Century. (IKON. Bild+Theologie, hg. von | ed. by Alex Stock und Reinhard Hoeps), Verlag Ferdinand Schoeningh, Paderborn 2015, S. | p. 676-677.