Paul Albert Leitner: "Weihnachtszeitverwunderungen"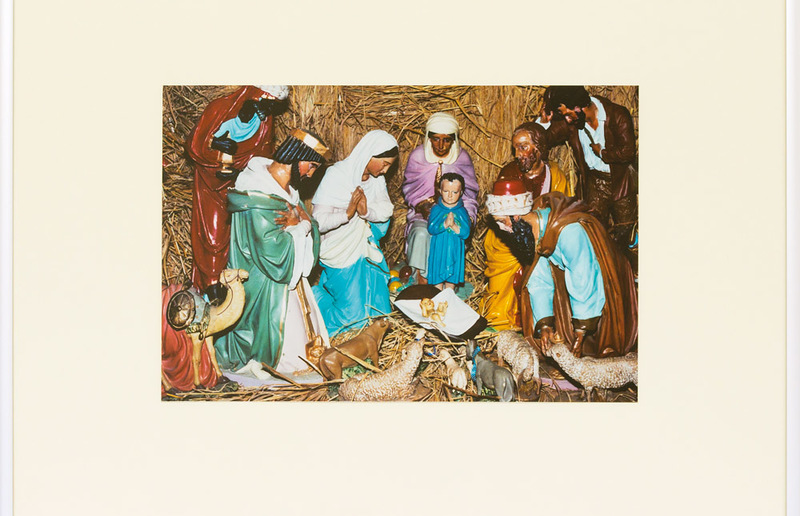 St. Thomas Cathedral, Fort, Mumbai 2012 The donkey, the hay, the ox, shepherds, Joseph, the carpenter, Mary, mother of Jesus, Jesus, the light of the world KULTUM depot Graz aus / from: Paul Albert Leitner: CHRISTMAS – A UNIVERSAL MESSAGE (2014) | Paul Albert Leitner
Paul Albert Leitner
geboren 1957 in Tirol, Österreich, lebt in Wien. Der Künstlerfotograf war Artist in Resident in Rom, Paris, New York und London und arbeitet seit Jahrzehnten analog. Sein analoges Bildarchiv umfasst mehr als 80.000 Kontaktabzüge. Seinen Zugang zur Kunst bzw. seinen Blick auf die Welt bezeichnet er – im Sinne von Henri Cartier-Bresson [1908–2004] – als "surreal". Leitners mehrfach ausgezeichnete Arbeiten (z.B. Rupertinum-Fotopreis 1995, Österr. Kunstpreis für Fotografie 2010) wurden im In- und Ausland ausgestellt. 2012 wurde Leitners akribische Arbeitsweise vom österreichischen Regisseur Tristan Zahornicky dokumentiert und auf der DIAGONALE in Graz uraufgeführt. Im KULTUM wurde Leitner in der Einzelausstellung "Paul Albert Leitner: CHRISTMAS – A UNIVERSAL MESSAGE" (2014) gezeigt. 
born in Tyrol in 1957; lives in Vienna. The photo artist was artist-in-residence in Rome, Paris, New York and London, and has worked analog for tens of years. His analog image archive comprises more than 80,000 contact prints. In the sense expressed by Henri Cartier-Bresson (1908-2004), he defines his approach to art and/or his view of the world as "surreal". Leitner's multi award-winning works (e.g. Rupertinum Photo Award 1995, Austrian Art Award for Photography 2010) have been exhibited in Austria and internationally. In 2012, Leitner's painstaking working method was documented by the Austrian director Tristan Zahornicky. The documentary film premièred at the DIAGONALE film festival in Graz. Leitner's works were shown in the KULTUM in the solo exhibition "Paul Albert Leitner: CHRISTMAS—A UNIVERSAL MESSAGE" (2014). 
Paul Albert Leitner: "Weihnachtszeitverwunderungen" (Christmas Time Amazements)
The Austrian photo artist Paul Albert Leitner captured "Weihnachtszeitverwunderungen" (Christmas Time Amazements) with his one-of-a-kind surreal view of the world—all over the world. Christmas, Christianity's most popular holiday, drowns in stereotypes. "Jingle Bells", "Driving Home for Christmas", Christmas trees, Santa Claus, Christmas markets, tinsel,… The triumphal march of Santa Claus, which is substantially supported by Coca Cola and McDonald's, makes itself felt even in the remotest cultures of the world. Confucius too wears Santa's hat. Leitner finds an authentic view of Christian Christmas only in kitschy mangers from places that are not primarily Christian: Istanbul, Mumbai, Calcutta. His specific view frame, the way he directs the lens of his always analog camera at the object, turns a seemingly kitschy subject into ultimate art. Leitner can discover a new dignity of this holiday on only in the naivety of this view of the manger. In parallel, not only the consumerist history of decay and the aggressive shopping frenzy but also the latent desire for and the political dimension of Christmas appear in the likewise apparently surreal newspaper clips.
Text aus | Text from: Johannes Rauchenberger: Gott hat kein Museum. Religion in der Kunst des beginnenden XXI. Jahrhunderts. | No Museum Has God. Religion in Art in the Early 21st Century. (IKON. Bild+Theologie, hg. von | ed. by Alex Stock und Reinhard Hoeps), Verlag Ferdinand Schoeningh, Paderborn 2015, S. | p. 442-445.