Marianne Maderna: Pope, 2010 und Pope, 2011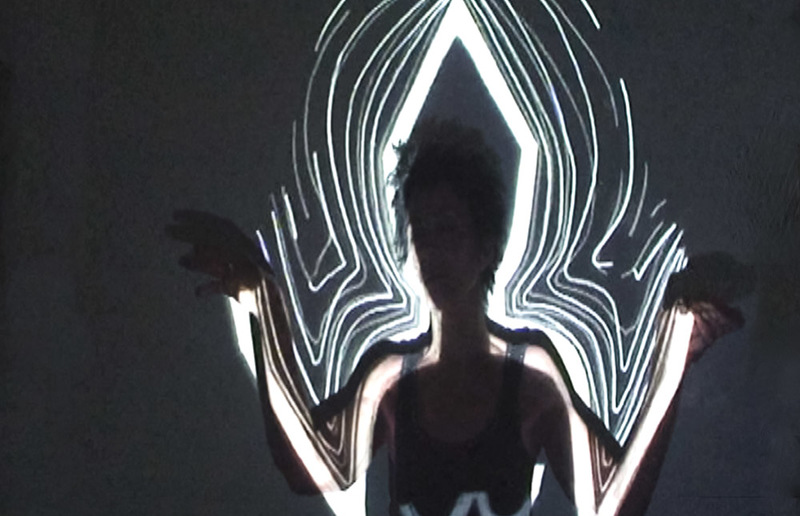 Pope, 2011 2-teilig, Videostill geprintet auf Dibond 45x60 cm KULTUM depot Graz, aus: IRREALIGIOUS! Parallelwelt Religion in der Kunst der Gegenwart (2011/12) | Marianne Maderna
Marianne Maderna
geboren 1944 in Wien, Österreich, lebt und arbeitet in Wien und Niederösterreich. Die Installationskünstlerin besuchte die grafische Lehr- und Versuchsanstalt Wien und studierte an der Akademie der Bildenden Künste in Wien. Die Auseinander-setzung mit dem Menschen und die Visualisierung seiner Emotionen, sowie die analytische Beobachtung von Bewegungsabläufen und Körperpositionen, sind zentrale Aspekte der Künstlerin. Sie wurde 1996 mit dem Preis der Stadt Wien für Bildende Kunst und für Skulptur und 1991 mit dem Würdigungspreis des Landes Niederösterreich für Bildende Kunst ausgezeichnet. Ihre Arbeiten wurden u.a. in der Secession Wien, Erste Allgemeine Generali Foundation, Skulpturensammlung Wien, Lentos Linz und Museum Liaunig ausgestellt. Im KULTUM wurde Maderna  in den Ausstellungen "Prome-theus!" (2010), "IRREALIGIOUS! Parallelwelt Religion in der Kunst" (2011/12), "reliqte, reloaded: Zum Erbe christlicher Bildwelten heute" (2015/16) und "VULGATA. 77 Zugriffe auf die Bibel" (2017) gezeigt. 
born in Vienna in 1944; lives and works in Vienna and Lower Austria. The installation artist attended the Austrian Federal Education and Research Institute for Graphics, Vienna, and studied at the Academy of Fine Arts Vienna. Dealing with people and visualizing their emotions as well as the analytical observation of motion sequences and body positions are central aspect for the artist. She received the Award for Visual Art and Sculpture of the City of Vienna (1996) and the Award of Merit for Visual Art of the Provincial Government of Lower Austria (1991). Her works were exhibited i.a. in the Vienna Secession, at the Erste Allgemeine Generali Foundation, in the Skulpturensammlung Wien, Vienna, at the Lentos, Linz, and in the Museum Liaunig, Neuhaus, Austria. Maderna's works were shown in the KULTUM in the exhibitions "Prometheus!" (2010) and "IRREALIGIOUS! Parallelwelt Religion in der Kunst" (2011/12) 
 
Marianne Maderna: Pope, 2010 und Pope, 2011
With "Pope", the Vienna-based artist Marianne Maderna traces a history of the religious coding of power and sacralization, and this from a smirking and subversive feminist perspective. For this artist, who was born in 1944, contradictions haven't been obstacles for a long time already, and this goes for belief too. This tomato (Translator's note: In the Austrian German word for it, "Paradeis" there is still the etymological link to "Paradies/paradise".) changes from an apple of paradise—the state of innocence and bliss is praised—into different headgear, ending with the mitra. What is presented are light drawings which are projected on the artist's body. The latter in turn is singing her songs in an exhilarated dance. In doing so she invokes "motherliness that does not occupy but can be experienced through abbreviations, playfully dealing with the labyrinthine themes of hierarchies. This would be the mother's look, for example, which includes all kinds of forgiveness." Maderna shines with a degree of feminist verve that can also penetrate the male-dominated dominion of the assertion of sacrality in a way which can have an easing effect with "song and move"—in the current (Church) debate in particular, "that it is just so". For Maria Maderna her playing with the headgear against the fury as the primary driving force of male-dominated hierarchies turns into a "holy game" that helps soften our thinking in castes, hierarchies, and offices in order to get a clear view of the original intention again. Speaking and living for an improvement of humankind. How do we get there? By dancing, moving and combining the elemental sounds [hju] and [wu] with the word "man": So she gets to "hu-man" and "wo-man". "In the beginning, they had no 'caps', in the beginning: So I think 'for the wellbeing of people' and with them the genies. Then they took over the power and the glory, or it overpowered them. It's great to march in their groups. They are at one with themselves in their group troops ... so I'll draw myself the cap. I'll draw myself the tiara and the turban. And: - I am Pope ! I am hu-man ,—wo-man! I'll draw myself the cap, without gold and pearls and the long staff of "big brothers" with long beards—in every respect.
Text aus | Text from: Johannes Rauchenberger: Gott hat kein Museum. Religion in der Kunst des beginnenden XXI. Jahrhunderts. | No Museum Has God. Religion in Art in the Early 21st Century. (IKON. Bild+Theologie, hg. von | ed. by Alex Stock und Reinhard Hoeps), Verlag Ferdinand Schoeningh, Paderborn 2015, S. | p. 440-441.